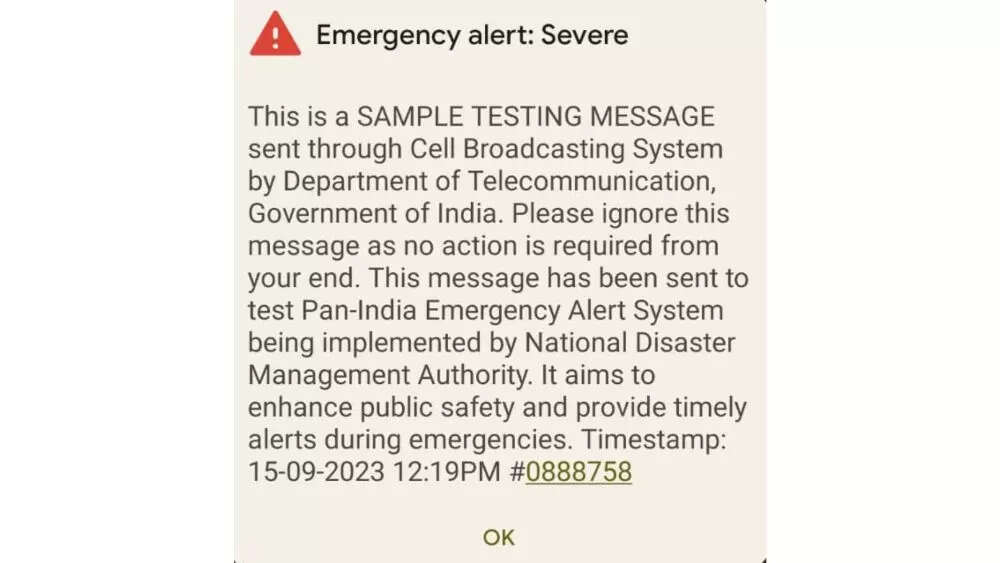 Several users across the county have received a new flash message today on their phones. The message arrived as a popup window titled as "Emergency alert: Severe". The message gets delivered with a continous loud beep that also reads the entire message aloud. Also, this beep stays active unless users press the 'Ok' button. Notably, the message appears on the screen irrespective of the app or feature you are using on the phone at the moment.
What's the message
The message in the emergency alert is as follows: "This is a SAMPLE TESTING MESSAGE sent through Cell Broadcasting System by Department of Telecommunication, Government of India. Please ignore this message as no action is required from your end. This message has been sent to test Pan-India Emergency Alert System being implemented by National Disaster Management Authority. It aims to enhance public safety and provide timely alerts during emergencies,"
What is it about
The message that many people have received today as a part of the emergency alert is not a real emergency and just a test. The message itself highlights the fact that this is a sample message sent through the Cell Broadcasting System by the Department of Telecommunication, Government of India. It also asks users to ignore the message and there's no action needed from their end. It is important to note though that this is a Pan-India test.
The message is about testing the emergency alert system across the country and it is being implemented by the National Disaster Management Authority.
It's not the first time that government has send these emergency test alerts. Yesterday we received a couple of these alerts. However, earlier there's was no message mentioned in them, except the 'Test' word which wasn't clarifying anything to users. However, the updated message clearly mentions the necessary details and also why users are receiving such alerts.
Why this emergency alert system is important
As you can read in the message itself " It aims to enhance public safety and provide timely alerts during emergencies.". This clearly indicates that the government body is testing this service to inform users in case of emergencies like Covid-19, flood, earthquakes, storm, etc.
Considering most users use phones these days and spend most of their time with it, it only makes sense to move the traditional alert system from the radio era to smartphones. The benefit of this system is that it works on both smartphones and feature phones. Plus, it is far more reachable as the probability of users seeing their phone is more than tuning to the radio channel and listening to the alert.
Also, by ensuring users receive accurate, real-time updates, the government can effectively communicate precautionary measures, testing sites, and vaccination details, contributing to informed decision-making and, ultimately, safeguarding public health and well-being. It is a versatile tool indispensable in modern emergency response.