NOIDA: Restrictions on heavy vehicles moving into Delhi kicked in at 5pm in the city and a few hours later in Ghaziabad on Thursday, with police placing barriers and checkpoints at Kalindi Kunj, Chilla border and the DND flyway as the capital prepares to host the G20 Summit.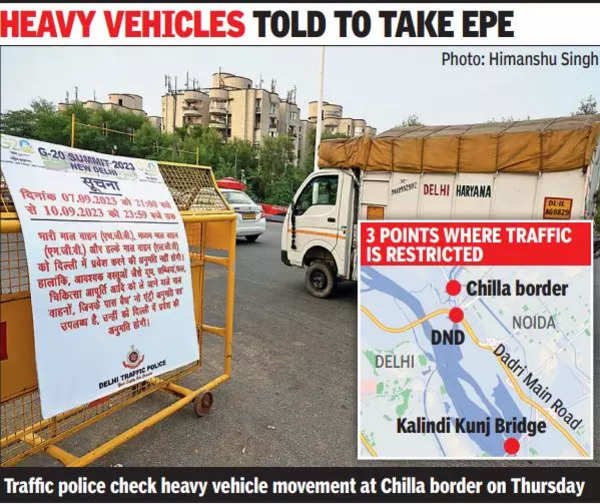 Traffic was slow at Kalindi Kunj and Chilla border as cops stopped the passage of trucks and other heavy vehicles from entering Delhi.
While police tried to divert movement towards the Noida-Greater Noida Expressway and the Eastern Peripheral Expressway (EPE), many truckers said they were delivering goods in Noida and weren't aware of the curbs. Some of them had parked their vehicles on the roadside to enquire about the check posts and the restrictions.
"To ensure there was no traffic jam at the Noida-Delhi borders, we deployed traffic police at Noida-Greater Noida Expressway and Yamuna Expressway to stop heavy vehicles there. They were directed to take EPE, which significantly reduced traffic at Kalindi Kunj, DND Flyway and the Chilla border. This enforcement will be in place till 11:59pm on September 10," said DCP (traffic) Anil Kumar Yadav.
There were police barriers near the Okhla Bird Sanctuary metro station to stop heavy vehicles a few hundred metres before the city's borders. Drivers of heavy vehicles were asked to use the underpass and take the Noida expressway.
Movement on DND was relatively smoother as vehicles turned back could easily take one of the lanes to take a U-turn. Chilla border, one of the most congested stretches of the city, saw vehicles come to a crawl during the rush hours. Apart from barricades to stop truckers and other commercial vehicles, a BSF team was deployed at the spot to oversee safety arrangements.
Delhi cops on the other side of the border have put up notices to inform commuters about the restrictions enforced as leaders from the world's largest economies arrive in India for the summit.
Raja, who was driving a mini-truck, got stuck near Kalindi Kunj. "I had come to Sector 63 in Noida to deliver some goods. I had to return to Faridabad but traffic police are not allowing entry into Delhi. I am in a fix," he said.
Sandeep Kumar, another truck driver, said he was delivering garments to a store in Sector 4 of the city. "Now that I'm trying to return, cops aren't letting me," he said.
The situation was similar in adjoining Ghaziabad, where Delhi traffic cops were deployed at the Ghazipur border.
Heavy vehicles were allowed to enter till late evening, but restrictions kicked in around 9pm on Thursday. Additional DCP (traffic) Ramanand Kushwaha said that the traffic police teams are stationed at 11 points, including UP Gate, Anand Vihar, Seemapuri border, Tulsi Niketan and Loni border.
Traffic curbs barring the entry of heavy vehicles to the capital will continue till September 10, when the G20 summit is set to conclude. Security reasons and limiting vehicular traffic in Delhi are among the reasons that restrictions were announced as thousands of foreign delegates and officials involved in the summit are landing in the city.