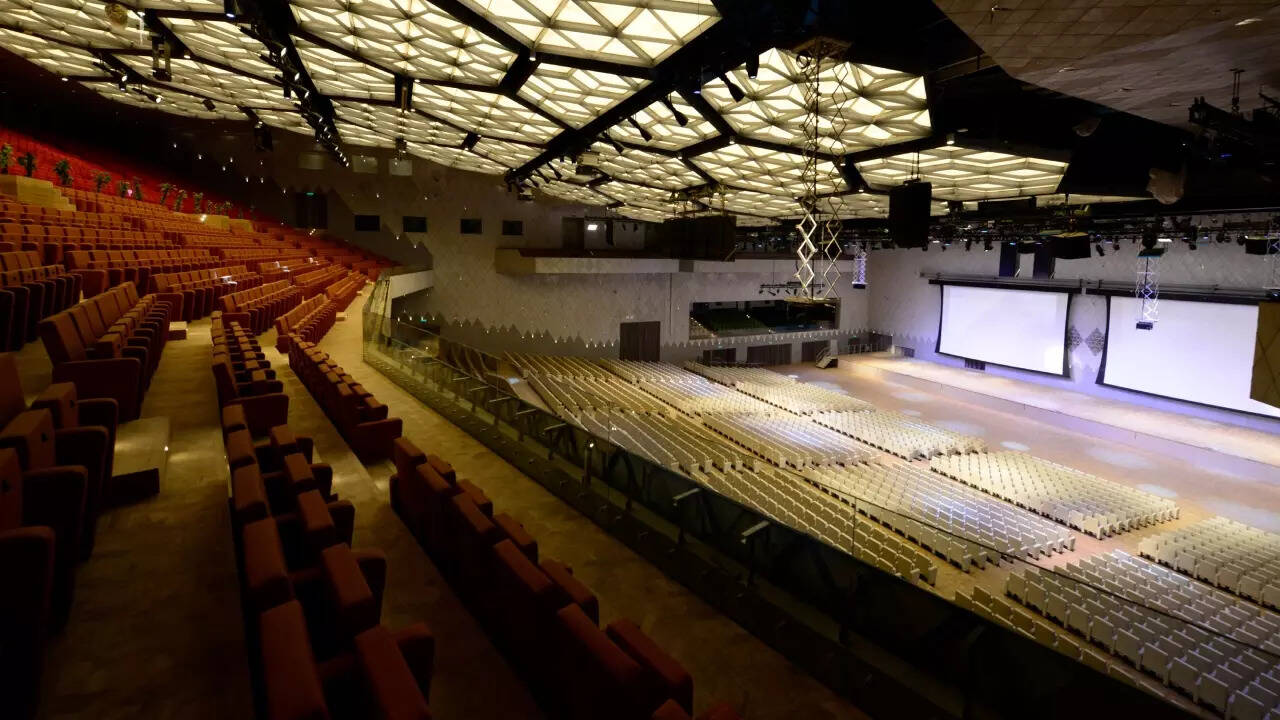 NEW DELHI: Prime Minister
Narendra Modi
will inaugurate the first phase of India International Convention and Expo Centre (IICC), named Yashobhoomi, in Delhi's Dwarka at 11am on Sunday.
PM Modi is also scheduled to inaugurate the extension of Delhi Airport Metro Express line from Dwarka Sector 21 to a new metro station at Dwarka Sector 25.
Posting on social media X, PM Modi exuded confidence in the world-class infrastructure and said that it will draw delegates from around the world.
Here's all you need to know about Yashobhoomi:
The total project area of the 'state-of-the-art' facility is over 8.9 lakh square meter and has total built up area of more than 1.8 lakh square meter.
It will find its place among the world's largest MICE (meetings, incentives, conferences, and exhibitions) facilities.
It is built across more than 73,000 sq m of area, comprises 15 convention rooms including the main auditorium, the grand ballroom and 13 meeting rooms with a total capacity of holding 11,000 delegates.
It has the largest LED media facade in the country.
The main auditorium is the plenary hall for the convention centre and is equipped with a seating capacity of around 6,000 guests.
The auditorium has one of the most innovative automated seating systems which allows the floor to be a flat floor or an auditorium style tiered seating for different seating configurations.
The grand ballroom, with a unique petal ceiling, can host around 2,500 guests.
It also has an extended open area that can seat up to 500 people.
The 13 meeting rooms that are spread across eight floors are envisaged to hold a variety of meetings of different scales.
It is also equipped with high-tech security provisions to ensure safety for the visitors.
The underground car parking facility for over 3,000 cars is also equipped with more than 100 electric charging points.
The convention centre consists of materials and objects inspired from Indian culture in the form of terrazzo floors with brass inlay representing rangolis patterns, suspended sound absorbent metal cylinders, lit up patterned walls.
It also demonstrates a strong commitment to sustainability as it is equipped with a state-of-the-art wastewater treatment system with 100 per cent wastewater reuse, rainwater harvesting, rooftop solar panels.
Its campus has received Green Cities Platinum certification from CII's Indian Green Building Council (IGBC).
Yashobhoomi' will also be connected to Delhi Airport Metro Express line with the inauguration of the new metro station 'Yashobhoomi Dwarka Sector 25'.
Yashobhoomi: Take the First Look Before PM Modi Inaugurates IICC building Tomorrow in Dwarka, Delhi
Watch First Look: What is YashoBhoomi that PM Modi will inaugurate in Delhi on his birthday