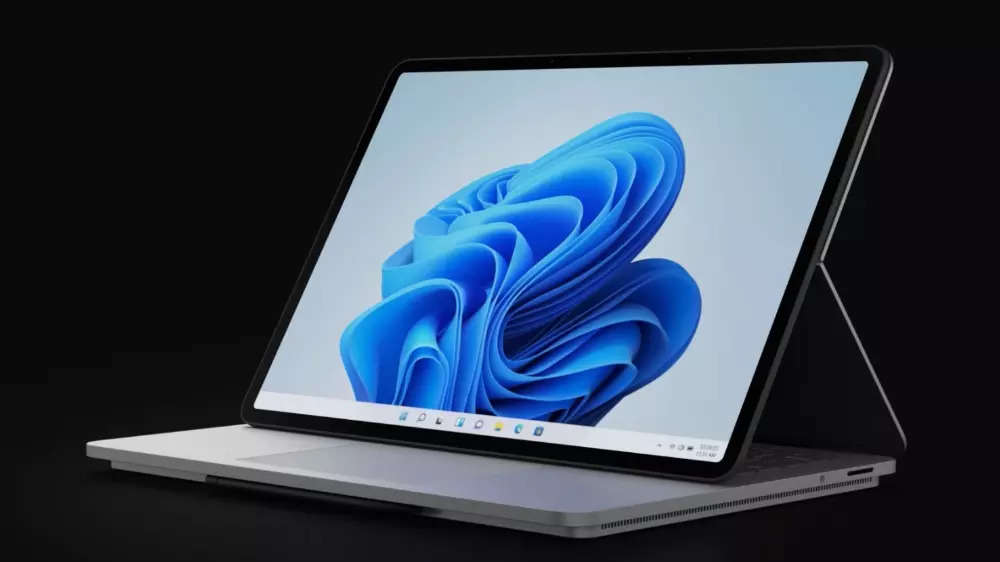 Microsoft is set to hold a special event in New York City on September 21. At this event, the tech is expected to expand its Surface lineup with new devices. Details about one of these devices have reportedly surfaced online. According to a report by WinFuture, Microsoft is likely to announce the Surface Laptop Studio2 at next week's event. The upcoming convertible laptop is rumoured to arrive with multiple upgrades.This includesIntel 13th Gen processors, Nvidia's RTX 4060 GPU, a microSD card slot, and a USB-A port.
Surface Laptop Studio 2: What to expect
As per the report, the Surface Laptop Studio 2 is expected to sport a similar design to its predecessor. Just like the previous one, the display of the upcoming laptop also can be pulled forward to transform it into a tablet. Microsoft calls this transformation studio mode. With the above-mentioned upgrades, the company is planning to address some of the issues that were criticised in the original model.
It is important to note that the top models of the original Surface Laptop Studio shipped with an RTX 3050 Ti GPU. The report claims that the top variants of the upcoming laptop will include an RTX 4050 or 4060 GPU and up to 64GB of RAM.
If the rumours are to be true, this will be the first Surface laptop model to ship with 64GB of RAM. However, the base model of the Surface Laptop Studio 2 is rumoured to include Intel Iris Xe graphics. The report also claims that Microsoft will start shipping the Surface Laptop Studio 2 on October 3.
What to expect about other Surface devices
Microsoft is also expected to announce a Surface Go 4 device featuring an Intel N200 processor at the upcoming event. However, details about the device are yet to be revealed.
Meanwhile, the leaked images of the Surface Laptop Go 3 show that this model will look very similar to the existing Surface Laptop Go 2. The upcoming model is also rumoured to ship with Intel 12th Gen CPUs and may become available in early October.