Her versatile and melodious voice has graced countless songs across various genres, including classical, pop, and film music. With a career spanning several decades,
Asha Bhosle
is always regarded as one of the greatest playback singers in the history of Indian music.
With numerous awards and accolades behind her for her great contributions to the Indian music industry, the 'Queen of Music' added another feather to her cap, as she unveiled an exclusive gold coin in her honor, designed by one of Indian subcontinent's biggest jewellery houses, Tanishq.
The coin celebrates the singer's legacy in her 90th year. The collection of these 22-karat gold collector's coins, is currently available in 8, 10, and 15-gram weights, and will be only be sold in Tanishq showrooms located throughout the United Arab Emirates.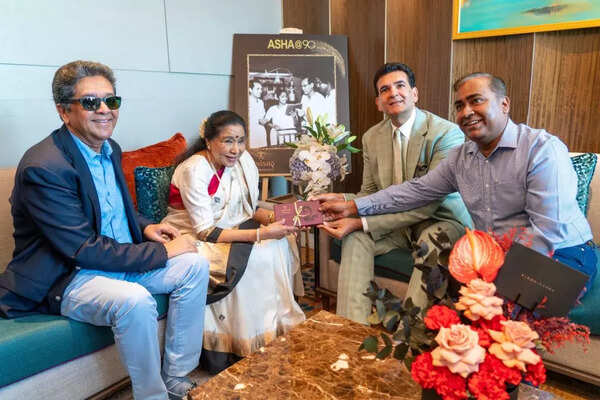 Asha Bhosle's ability to adapt her voice to suit different moods and styles of songs has made her an iconic figure in Indian music, and her influence continues to be felt worldwide. Hence, it's not a surprise to see the coins featuring Bhosle as the 'Voice of Bollywood' along with the words 'Asha Bhosle, 90th Birthday,' with an authenticity stamp at the back for company. The limited-edition coins have been on sale since September 10, 2023.
"Creating a souvenir for an Indian legend like Asha Bhosle is a matter of great pride for Tanishq. As India's most trusted brand it is truly an honour and privilege for the whole team. With these coins we have tried to capture Asha Bhosle's indomitable spirit and zest for life. They're a wonderful collectors' item that commemorates her legacy and landmark 90th birthday celebrations," Aditya Singh, Head of Jewellery, Tanishq International Business, Titan Company Limited, was quoted as saying on the occasion.
Bhosle celebrated her 90th birthday on September 8, 2023 in Dubai, amidst her fans in the form of a birthday concert called 'Asha@90' held at Dubai's Coca-Cola Arena. The concert successfully traversed Bhosle's eight-decade musical career with timeless Bollywood classics, soulful melodies, and songs that have solidified her reputation as one of the greatest Indian singers of all time.